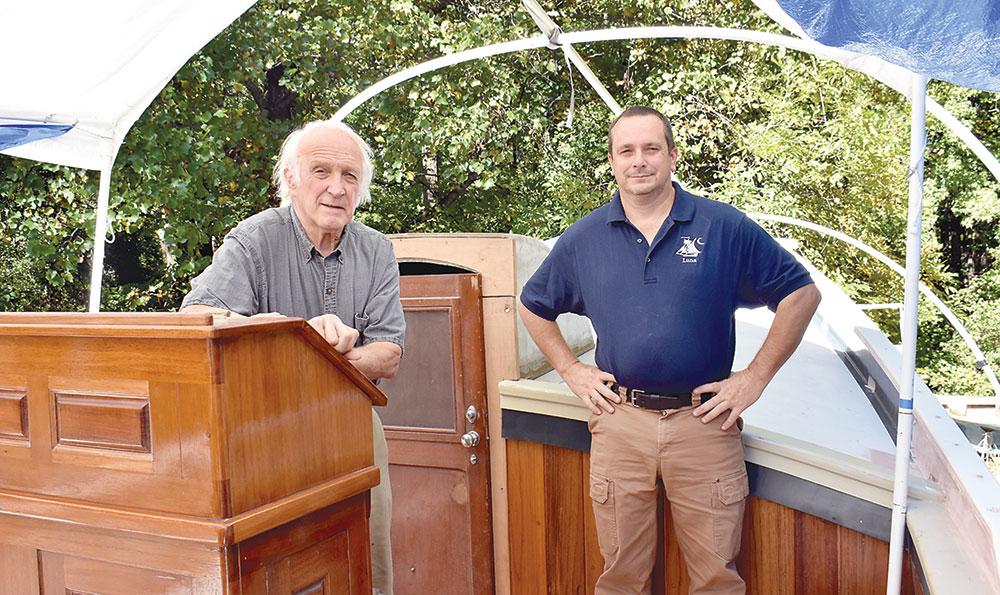 by Larry Chowning –
Pioneers in Virginia's fiberglass commercial boatbuilding industry, John (Chip) Collamore III and his son, John (Jock) Collamore IV, both of Deltaville, have been named captains of a special substitute version of the 63rd annual Urbanna Oyster Festival.
The annual selection of captains is to honor and acknowledge Urbanna's and Middlesex County's long seafood and boatbuilding heritage. Although there is no official festival this year, the Urbanna Oyster Festival Foundation still selected captains and a grand marshal. They will ride in the parade and participate in events in next year's festival.
When Chip and his wife, Susie Collamore, moved their family to Deltaville during the Christmas holiday of 1972 there were 21 active wooden boatbuilders in town. Deltaville was known as the Boatbuilding Capital of Chesapeake Bay.
Chip came to Deltaville from an apprenticeship in fiberglass boat construction with Bristol Yachts in Bristol, R.I., and Allen Vaitses of Mattapoisett, Mass., who wrote the book "Covering Wooden Boats with Fiberglass." The Collamores were contributors to the book.
While apprenticing in Rhode Island, Chip started thinking about starting his own business — but where? The cost of real estate and doing business in Rhode Island was expensive, so he started looking south. While at the Annapolis Boat Show he met the late Carl Pederson, who at the time was building wooden boats in Deltaville.
Pederson knew where there was a piece of land in Deltaville for sale and "for the right price." Chip bought the land and during the Christmas season of 1972 he and Susie moved to Deltaville to oversee the construction of the shop and started Hulls Unlimited East-Inc. He started the business with orders for a 52-foot ketch and a 60-foot motor yacht.
Chip's father, the late John (Pop) Collamore Jr., and his mother, the late Nancy Collamore, were living in Providence, R.I. The senior Collamore was general manager for a manufacturing firm when he decided to quit over union issues. In 1973, Chip's mother and father moved to Deltaville. Nancy took over as secretary of Hulls Unlimited-East and the father-son team started building boats together.
Although the Collamores started out building pleasure yachts they found it to be risky business, so they switched to building boats for commercial watermen. In partnership with Whitey Laurier of Glass Marine in Hayes, they built one of the first fiberglass classic Chesapeake Bay deadrise workboats in Virginia.
"We thought we could develop a product where we would build the 42-foot workboat hull out of glass and have wooden boatbuilders in Deltaville build and install decks and houses out of wood," said Chip. "That didn't work and the locals thought we would be out of business in six months. We lasted 26 years."
At first watermen wanted nothing to do with fiberglass. This led the Collamores to start looking at other styles of workboat platforms. The late naval architect Harry Bulifant encouraged them to try one of his designs that become known as the "Deltaville Garvey." The garvey is a very popular workboat design used by bay watermen to this day.
Along with the garvey, watermen, realizing the maintenance value of fiberglass verses wood in a boat, began placing orders for 42- to 50-foot fiberglass classic deadrise boats.
"We built boats, but we also built anything out of fiberglass we could sell," said Chip. The Collamores built tack boxes for horses, planters for commercial greenhouses and a variety of elements used for shedding of soft-shell crabs and growing oysters.
Chip and Susie's children, Whitney and Jock Collamore, were given a taste of the business. "We encouraged the children to participate in building one boat to see if they had any interest in carrying on the business," said Chip. "When they both finished their projects and we asked about them taking over the business. They both said, 'hell no! There has got to be an easier way to make a living than this!' " Jock is now a police officer with the Virginia Marine Resources Commission.
The Collamores sold the Deltaville boat shop in 1998 and Chip retired from the business. Afterwards Chip took on some one-off projects and 13 years ago Jock talked his father into one last project.
Colonial Seaport Foundation (CSF)
CSF was established in 2007 by Jock as a maritime educational group. "The purpose of CSF is to preserve facets of America's colonial maritime heritage by providing historically-accurate information and education to the public."
Chip joined the foundation to help rebuild and modify a 50-foot ketch (two-masted sailboat) into a replica of a 1788 Virginia sloop named Luna. The project is expected to be completed this year.
Luna will be home-based in the lower Chesapeake Bay. "What we are looking for are communities that have good waterfront, such as Urbanna, and where we can stay for a week or two to accommodate our educational programs and then move on to the next port," said Jock.
CSF has also been exploring possibilities of hauling commercial freight via sail to and from former colonial seaports. Jock noted that East Coast colonial seaports were a vital part of America's economic growth and heritage and visiting these communities will educate people of that heritage. It will also promote eco-friendly (low-carbon) transportation.
The organization intends to use Luna to display and demonstrate the operation of the vessel, and display vintage equipment, tools, procedures, skills and lifestyles used or experienced within 17th and 18th century maritime communities.
The group's other areas of interest and expertise depicted in its reenactments and addressed in its educational programs include life in coastal and maritime communities; life aboard a vessel of the period; common trades within the maritime community; and coastal transportation along the Atlantic Seaboard.
The actual construction of the Luna in Deltaville is currently being used as an education tool by Boy Scouts of America's Sea Scouts out of Mechanicsville who are helping with the construction process. "Sea Scouts have played a vital role in building the vessel and, at the same time, the boys are learning boatbuilding skills," said Jock.
Oyster Festival Chairman Joe Heyman said the Collamore Family played an important role in the development of the modern era of Middlesex County boatbuilding. He said, "The Oyster Festival Foundation is honored that they agreed to be captains of this year's festival!"